Invisalign Near You
Invisalign is an orthodontic appliance that uses a series of removable, clear plastic aligners to straighten your teeth slowly. Unlike traditional metal braces, Invisalign does not have any metal brackets to attach or wires to adjust. At Northern Horizon Dental Innisfil, we offer Invisalign in Innisfil as an alternative to braces.
How Does Invisalign Work?
Invisalign is an aligning treatment that is customized from beginning to end for each patient. Your dentist will take into consideration your specific desires and needs and communicate with you to develop an effective treatment plan.
If you are interested in Invisalign, your dentist will begin by taking a 3D scan of your teeth. This scan will then be used to digitally straighten your teeth and create a simulation of what your smile should look like after receiving Invisalign.
Using these scans, your series of custom clear aligners will be made by Invisalign and fitted by your dentist. Each of your aligners will be worn for one to two weeks, working to slowly shift your teeth into the desired position. The entire process typically takes between 12-18 months.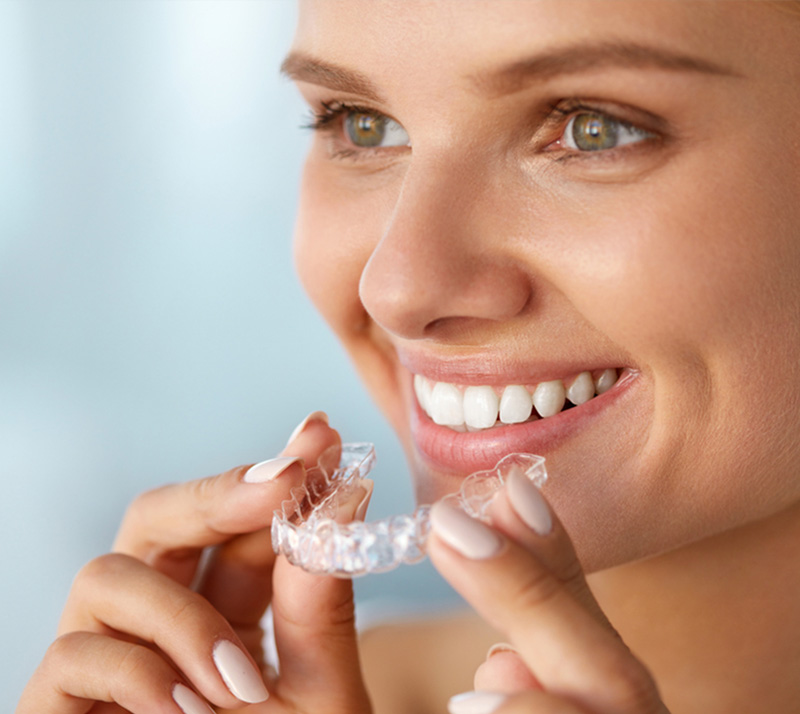 What Problems Can Invisalign Address?
Invisalign is a conservative and discreet treatment that addresses numerous issues, including:
Gaps between teeth
Overcrowded teeth
Underbite
Crossbite
Open bite
Overbite
Invisalign is designed to reposition misaligned and crooked teeth gradually. It can address many aesthetic issues while not compromising your appearance during the process.
To get the most out of your Invisalign treatment, you must follow good oral hygiene practices and communicate any questions or concerns that you have with your dentist.
Interested in Invisalign Near You?
If you are searching for Invisalign in Innisfil, Northern Horizon Dental Innisfil is here to help. Our team is proud to offer Invisalign near you as one of our orthodontic treatment options. If you feel that Invisalign is the right treatment for you, please contact our clinic to get started on your personalized treatment plan today. We can't wait to see your smile!